Accommodations
Whether you call it a small house, lookout, cabin, or cottage, it's unfinished inside but functional and cosy all year round. It comfortably accomodates a self-reliant person or couple who are familiar with propane and woodstoves, but it can be stretched to sleep extra kids or an additional couple. More than 4 persons and you'll need to expand outdoors using tents.
The rustic non-electric lifestyle here is not for everyone. It takes more time and thought but is an essential, even joyful, part of an outdoor experience on the edge of the wilderness. If an outhouse, outdoor hot shower, propane appliances, no TVs, no internet or cell phone coverage for 25 miles isn't your cup of tea then this won't be the place for you. But if you're looking to let go of the stress of modern life for a week or more, and recharge your core in a magical wilderness setting, then you've come to the right place!
Without electricity it's best to arrive in daylight so you can orient yourselves and enjoy a sunset over the water before it gets dark (guest photo)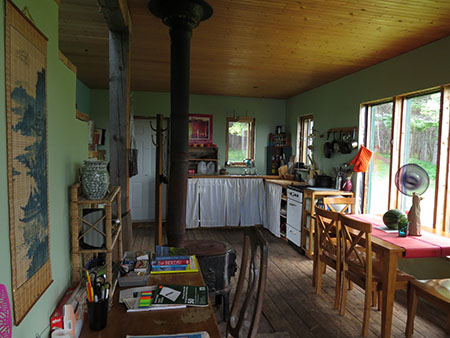 The dining table is at right and the kitchen at the far end of the big downstairs room which looks through the spruce to the water. The interior still needs trim, and finish floors but it's getting there! Each of the rooms has at least one gaslamp, and there is a landline phone in case of emergency. Sorry no pizza deliveries!
Many an amazing meal has been made in this kitchen. It's non-electric but very functional with a propane stove/oven, a small propane fridge, and running water at the sink from May to October (in winter water has to be hauled from the brook nearby). Dishware, pots and pans, utensils, and other basics are all supplied, but no microwaves or cuisinarts. BTW, that's Snow Crab on the counter bought cheap off the docks down at the harbour during July and early August. Fresh lobster caught that very morning, maybe even caught right below the house, is available all of May, June, and first week of July. (guest photo).
The bedroom downstairs has a queen sized bed with windows looking out to the sea and headlands. Sheets, pillowcases, and blankets are provided, just bring your own towels. Like the lack of light pollution making for awesome starry nights, the lack of electric vibe and white noise here makes for some amazing dreams.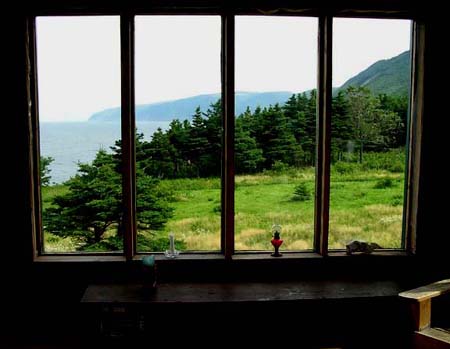 The upstairs tower room has 360º views and is set up as the common space for hanging out, reading, drinking tea, watching whales and eagles go by during the day, or stargazing and northern lights at night. Some guests prefer to sleep up here and it can also function as a second bedroom, in which case there's a double-size futon to unfold.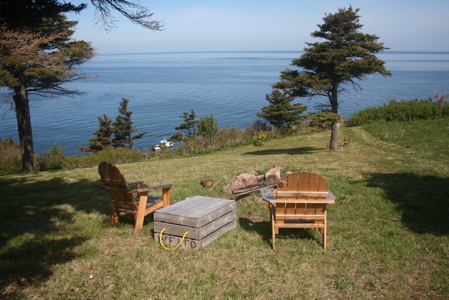 There's outdoor furniture for hanging out, hammocks for naps, and a campfire (and a portable grill) for cooking outdoors. Lobsterboats ply the waters below the cliffs May and June, and the rest of the season whale watches and tour boats cruise by farther offshore.
Portable hot water tech has come a long ways. Simply turn on the water at the shower head, and instantly the gravity-fed water pressure lights the propane heater by itself, and voila! On demand hot water. The bathing terrace is built into the slope down to the brook and that's an old claw foot tub you can fill for a hot soak with a view of the sunset.
Each and every sunset over the water is unique.
Rates | Accommodations | Neighbourhood | Wildlife | Seasons | Topten | Links
Availability calendar | TripAdvisor Reviews | Inquiries or Bookings email Phillip